Southern Michigan and Michiania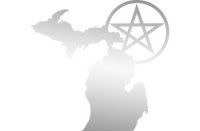 If you would like to add a resource to this directory, feel free to use the boxes below to do so. You do not need to log in to do so, but if you join the site first and are logged in when you create your listing, you will be able to edit or delete it in the future and will receive notifications when someone comments on it.
Pagan Owned and Pagan Friendly Businesses in Southern Michigan and Michiania
Organizations Run by and for Pagans in Southern Michigan and Michiania
Artes And Craft
67103 Red Arrow Highway Hartford
Van Buren, Michiana and Southern Michigan
MoonFire Coven
Coloma, Hartford and Kalamazoo
, Michiana and Southern Michigan
Helpful and Interesting People in the Pagan Community of Michigan
If you don't have a profile yet, you can join the site
by
Paul Barbary 12 Feb 2016 19:30
description: 'Pagan shop owners, ordained clergy, high priest and priestess of the MoonFire coven, Initiates of OTO. Makers of hand forged blades, traditional witchcraft ritual tools, jewelry, fine incenses and more.'
location: '2'
city: Coloma
county: Berrian
email: moc.liamg|sgnikrowerifnoom#moc.liamg|sgnikrowerifnoom
URL: www.artesandcraft.com
facebook: 'https://www.facebook.com/groups/581857331830243/'
twitter: ''
linkedin: ''
google: ''
pinterest: ''
other: '1'
performer: '0'
artist: '1'
clergy: '1'
teacher: '1'
writer: '0'
psychic: '0'
healer: '0'
Authors
Teachers
Other Helpful People in Michigan
A Sampling of Pagan Events in Southern Michigan and Michiana
See our events page for more.